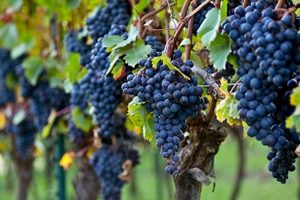 Dolcetto d'Acqui is produced in 23 villages in the Alto Monferrato territory, a viticulture area that has developed mainly around two major centres: Acqui Terme and Ovada. It is produced from the Dolcetto vine that is presumed originated in this area, even though its history is fairly complex.
The first documents relating to Dolcetto date back to the end of the 18th century, when during this period in the institutions of Count Nuvolone, vice-Director of the Agricultural society in Turin, it mentioned a wine first referred to as "Dosset", because the Dolcetto vine grows particularly well on "dossi" (humps in the land) or "duset" in Piedmontese dialect.
It is regarded by the "profane" as a sweet wine, whilst it is really a dry wine with a slight bitter taste; as a matter of fact the grapes are sweet, and for this reason it was much appreciated in the past consumed as an excellent table grape. For many years is was considered a wine with a low alcohol content and without much body, but all this has changed in recent years.
It has always been an every day wine, but today with the new cultivation and production techniques the quality has greatly improved.
It is appreciated just as much as the Barbera wine, and is suitable on all occasions.
Today Dolcetto is regarded as a very important product due to the strict selection of the grapes, it is in fact obtained using 100% Dolcetto grapes.
There are two varieties that are produced according to the disciplinary:
• Dolcetto d'Acqui – 13% Vol.
• Dolcetto d'Acqui Superiore – 12,5% Vol. with one year of ageing.
The cultivation of Dolcetto is preferred by the smaller producers, even though some of the bigger and well-known companies are also dedicated to the production of this wine, whose quality meets the increasing appreciation and constant growth of the consumers. The method of production used foresees the pressing of the grapes, that are then put to ferment and macerate together with the vinasse. During the next stage of the racking process, the vinasse is separated from the must, then after the refinement phase the wine is stabilized and bottled. If left to age for one year, it can then acquire the denomination "Superior".
It is a table wine with an intense ruby red colour and a winey taste, with a hint of plum and red fruits. The flavour is dry, bitter with a pleasant hint of almonds, and it is perfectly paired with starters, salamis, main courses such as pasta and ravioli, tagliatelle with Bolognese or mushroom sauces and soft cheeses.
To be served at a temperature of 18°-20°C in glasses called "Ballon" and consumed within two years of harvest.
Questo contenuto è disponibile in: